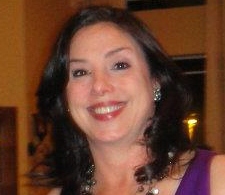 Managing Spouse Than Trailing Spouse
If there's any one thing that we hear time and time again at the Expat Info Desk, it's this: life as a trailing spouse is far from easy. Today we interview someone who has been there, done that and has numerous T-shirts to prove it.
When Tere Bible married an oil company employee she knew that a life on the move was always on the cards. Having since lived in Argentina, Scotland and England she has become somewhat of an expert on embracing life as a trailing spouse and provides extremely invaluable advice for people who find themselves in the same position. This interview is a fantastic read for people who are struggling to find a place for themselves after relocating as part of their partner's career and contains some inspirational outlooks that may really help to make a difference.
Please tell us a little bit about your life in the U.S. before all the expat adventures began. Where were you living and what did you do for a living?
We lived in Houston where I was a paralegal. Then I quit because I was pregnant and not feeling well. After a year or two, we were transferred to Lafayette Louisiana where we lived for 4 years, and had two more children.
What took you abroad for the first time?
In May, 1995, my husband was transferred to Neuquen, Argetina, a colonial town about ten hours south of Buenas Aires. He works for an oil service company (Schlumberger) and we knew part of the job would be moving a lot.
Was your decision to move overseas for the first time difficult? Or were you excited at the prospect? Please share some of the thought-processes you underwent.
It was not difficult at all for me! We were expecting to go overseas at some point so I was ready. I was excited! I think it's always a good experience for families to live in other cultures and experience them in a deeper way, a way that a short vacation could never allow. My main regret was, and always has been, being far away from my family, especially since my children were so young (ages 1, 3 and 5 at the time). But we were able to visit once or twice a year, and luckily, my parents got to visit as well.
I was also not very nervous about going to Argentina because I speak Spanish. My mom was from Mexico, so I grew up in a dual-culture house. Perhaps that helped me as well to easily accept new adventures. Had we been transferred to a location where I didn't speak the language, I would have been much more nervous and perhaps not settled in as well, but that's part of the whole experience!
Tell me about the first time you moved overseas as a "trailing spouse?" How did you feel when you found yourself living in a new country for the first time?
It was difficult. First off, usually the husband goes ahead, before the wife and children. So you are left with all the responsibility to sell the house, sell any furniture, store items if needed, gather all the medical records to take, deal with the moving company and the actual move. THEN, travel alone with 3 small kids to a foreign country! Thank God that I did speak Spanish because on arrival, I had to find temporary housing while I searched for a house to rent. Not so easy as many countries do not have a multiple listing service for rentals or house sales.
Then there's the issue of trying to assimilate into this new and strange culture; find grocery stores, schools, service companies, a bank (which we never used—I think you had to be a citizen and they you had to pay a monthly fee for the honor of them holding your money!)-we just took out large amounts of money from the ATM and when that was gone, start over!
The whole experience was wonderful, frustrating, stressful, and exciting!
Many people experience various emotions when they move to a different country for the purposes of their partner's jobs. What emotions did you experience, both negative and positive, and how did you deal with any negative feelings you encountered?
I met some wonderful people there. Many expats who clung together for support. We would get together almost every weekend and celebrate holidays all together. It was a sense of real community. I appreciated all the new experiences. I loved that my kids were learning to speak Spanish at an incredible pace. We were very lucky to have a wonderful live in maid/nanny who made life so much easier and was a font of information about local issues. The negative emotion I felt most was probably frustration.
There is not the variety and convenience of the US. There may be only one service person to choose from and if he doesn't show up, you just have to wait. No Angie's list or shopping for someone else. The grocery stores where a challenge. Sometimes you would have to go to 4 or 5 stores to complete your list. And you would have to shop often, because the selection for any canned goods or cereals was very limited; the shelf space for either might be 12 inches. They use mostly fresh food and cook from scratch. Which, since I had a live-in maid, was great, as she made home-made meals every day!! I also learned a very important lesson.
When Americans live in another country, they must remember that they are a GUEST there. It is not America, and it is in poor taste to criticize them because they don't have the same conveniences, or laws, or customs. The reason is because they are NOT the US, and it is not our job to change them or instruct them on how to become more like "us". I think I certainly became more patriotic! The first time I returned to the US from Argentina, I did literally kiss the ground, saying "God bless America". I think many Americans don't realize, despite our troubles here, how good they have it. And many will never realize it unless they have some overseas experience.
Living overseas is definitely not for the faint of heart. You must be adventuresome, tough and grounded. Many marriages have failed because of the stress. This life is like that of the army—in that they tell you when to go and where you're going, and that you have to be there in two weeks or some short, insane amount of time!
As a trailing spouse it is important for individuals to find a role for themselves. How did you approach this and what experiences did you have?
Absolutely, it is important to find your role. The best advice I got was to not think of the move as temporary, pretend it is long term, so that you allow yourself to become immersed in the culture and feel rooted. Many spouses are not allowed to work overseas, so usually we immerse ourselves in our children, their schools, volunteering, and other friends we meet. Since I "cut my teeth" in Argentina, I was just learning about expat life. It was a strange, new world for me so that really took a LOT of time to adapt. Meanwhile, I met many other expats who really just wanted each others' company, so we got together often. I would almost say that my year in Argentina was like one, big vacation! But it's not like that all over, and that was over 20 years ago.
In Scotland, my children went to the International School, where I was very involved with volunteering. I was a Girl Scout leader and was involved with the women's groups that had formed, such as the "Womens' Petroleum Club" (I think that was the name). We would organize events and activities and even trips abroad twice a year.
England was a different experience, as we lived in a little village that was 750 years old, in the Cotswolds. It was idyllic. We lived in a 350 year old house that was once a brewery. There were not that many ex-pats around and no international school. The local school situation was a nightmare and we ended up home schooling. While there were many perks to that, we felt we became somewhat isolated and distant from other expats who lived farther away. After two years, we felt we needed to go back to the States. The kids and I were craving some roots and stability. After 5 years, it was really difficult to assimilate back into the American culture.
We were transferred to Oklahoma City. Talk about culture shock!! As the kids were getting older, it was harder on them to move. There is a term for them and other kids who move a lot, especially over seas and don't feel rooted. They are called "third culture kids". Now we live in Denver, and I know they still don't feel like they have roots although they somewhat consider New Orleans their home since that's where all my family are and we visit often. This issue is one that is important and I would stress to others who are going overseas for a while or have been there for a while, to check out the resources on the net. There are many good books on this as well.
That being said, I wouldn't trade my experience for the world. We have lived in incredible places and have travelled on almost every continent. My children have greatly benefited from this and they are more mature and educated because of it.
So since your early days in Argentina, you have also lived in Scotland and England, which was your favorite and why? Which of the three represented the biggest challenges?
It's hard to say, as they each have their own special qualities. I suppose if I had to choose, it would be Scotland. Probably because we were the most involved there with school and friends and we were able to travel a lot to other awesome places. We traveled so much that, if you can believe this, I was on the computer planning a trip and my 7 year old said, "Not another vacation!!" Who says that? So I was like, "Don't you want to give an elephant a bath?" He did agree he'd like to do that. We were planning our trip to South Africa, Zimbabwe and Victoria Falls.
The biggest challenge was probably England. At the time, we were in Aberdeen when we were transferred. So I thought, "No big deal. It's just down the road and they speak English." Well, jiminy crickets, talk about a difference in the people! The Scottish were much more open and nice. Not to say the English were not, but they were harder to come by. And our situation with being isolated and homeschooling didn't help.
How do you feel about the term "trailing spouse?" Do you think it is an adequate description of people who relocate with their partners?
Not exactly. I think a more appropriate term would be "managing spouse"! As we are the ones, though left behind, we must manage the "whole tamale". And frankly, our spouses would be lost without us!!
What three pieces of advice would you give to women and men who are relocating as part of their partner's careers

You both have to be in agreement on the move. Last thing you want is a resentful spouse; this will lead to nothing but trouble.
Embrace the transfer as a new adventure! Learn all you can about the location and get excited!! Often, there are women's groups already organized there who can help with questions and ease your worries. Our company has a spouses association set up in almost every location (around 3000!). I am actually the coordinator at our office. This is a social group whose main goal is to assist newcomers to their new location and answer questions, and help get them acclimated. We provide much information and hold monthly coffees and activities, even health and safety programs, for the benefit of the group.
"What about my friends and family??" Yes, you must consider that you will be far from friends and family. This is especially tough if you have young kids and you want the grandparents to see them grow. Consider this, now that technology is so advanced, you have things like SKYPE and the Internet to keep in touch easily. Also, most companies give you a travel allowance so you can go home once or twice a year. If you are worried about losing friends, DON'T! Get them to plan to come see YOU in your exciting new locale. And I PROMISE, you will meet new, amazing, interesting, diverse people to add to your circle of friends. And you would have never met them if you didn't go!
I think you can tell that I am very PRO-transfer. It will benefit your family in more ways than you can imagine. You will grow as a person and as a family. One caveat: it ain't easy! But it's so worth it. Do consider though if you are a negative person who blows a gasket because the waiter forgot to bring your Evian…, then this may not be right for you.
Good characteristics to ensure success: flexibility, adventurous spirit, open-minded, go-with-the-flow, respectful of other cultures, and most of all FLEXIBILITY! (did I say flexibility??)
PS—it has been 7 years since we returned to the US from England. My youngest is graduating high school in May and I am dreaming of one more expat experience before my husband retires! I do miss it! I am hoping for Italy, but I'll take what I can get!