Italy provides an amusing life culturally, financially, and socially. This is why those who visit would want to become an expat in Italy. Once belonging to Ancient Romans and innovative artisans, present-day Italy flaunts the rich vineyards, most luxurious restaurants, and a flourishing economy. Likewise, Italy has a demeanor of sentiment, which is when commended by the rich their culture, makes it a famous place for expats to settle here from all over the world.
Every city in Italy will amaze you with its unique story, whether it's the tale of the Roman Empire or Venice and Florence's art revival. You will find the whole country filled with different museums, churches, landmarks, and art pieces, making Italy a beautiful country to work and enjoy your life.
Reasons to Become an Expat in Italy
Living as an expat in Italy will provide you with the opportunity to live a high-quality life. The lifestyle here is quite relaxed and comfortable, and the locals' lively nature makes everything interesting.
We've gathered the top 10 reasons why you should become an expat in Italy.

1. Affordable Living Costs
The cost of buying homes in Italy's countryside outskirts is quite affordable compared to other locations. You will find reduced taxes in rural areas as well. I find that Sicily is a very affordable region for expatriates and the weather and beaches are amazing!
2. Pleasant Atmosphere
A large portion of Italy has a Mediterranean atmosphere, having dry summers and wet, cold winters. As you move towards the southern areas like Sardinia and Sicily's coast, you will witness mild weather. Each season has its charm. The sunflowers leave in the autumn, mountains covered with snow, and the seashores add to its beauty.

3. Mouthwatering Cuisine and Wine
Famous for its sound Mediterranean eating pattern, kinds of pasta, pizza, gelato, and wine also make Italy an attraction for the global nomads.  All these foods, along with cheese, are a significant part of each Italian dinner. Talking about wine, numerous areas create fine quality wine; many of them are quite popular internationally. To name a few, Classic Chianti, Lambrusco, and the sparkling Prosecco are some of Italy's famous wines.

4. Remarkable Architecture in Italy
Italy's cities have numerous exquisite architectural designs, which incorporate the traditional Roman, Baroque, Renaissance, and Neoclassical. Come across the most famous buildings in the whole world, leaning Pisa and Colosseum's tower as some of them. You will witness stone structured farmhouses, royal residences, cone moulded Trulli, and extravagant villas are moving towards the rural side.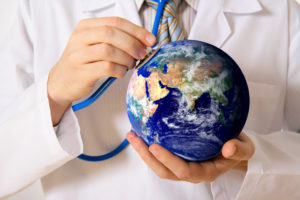 5. Healthcare and Insurance of Italy
Italy positions among the World Health Organization's best ten nations for quality wellbeing facilities and having best healthcare system in Italy. Being an expat will benefit you due to reasonable medical costs. Most expatriates in Italy will obtain an international health insurance plan from a global provider to cover their emergency and non-emergency medical expenses both in Italy, back home, and when traveling around Europe. A quality global health policy should cover you in your destination country and globally – some plans will allow for treatment in the USA if you pay a bit more.

6. Glorious Culture of Italy
Whether it is the Gulf of Naples or Apulia, Italy is a country full of life and culture. Its well-known architecture incorporates the church of Saint Peter's Basilica and the museums, which collect an exciting collection of Europe's different cultures.  There are endless things that are a must-visit, either the Trevi Fountain or the Gondola on the Venetian trenches. And being an expatriate in Italy will allow you to explore every place gradually.

7. Breathtaking Views of the Landscape
There are four world legacy destinations in Italy, which comprise the Dolomites and the Aeolian Islands in the north of Sicily. The landscape of Italy is diverse in actual meaning. Having Alps Mountain on the northern side, the Po Valley plain, Mediterranean seashore, and islands make it a diversified place. Last but not least, you will find some active volcanoes in Italy as well.
8. The Locals
Italians are famous for their hospitality and warm behavior. It is custom to kiss on the cheek as a way to welcome, and they are not reluctant to connect with individuals they have just barely met, through physical contact or standing close. Becoming an expat in Italy will come with numerous benefits.
9. Language
The Italian language is one of the merriest and most lovely dialects to hear. The melodic and expressive quality of this language itself is a horde of feelings. Italian is also one of the easiest languages to learn for the global nomads because of the reasonable manner by which it is articulated and its moderately straightforward syntactic framework.
10. The Significance of Family
The fact that Italy is a family-oriented state makes it a perfect place to live. This implies they attempt to socialize and accomplish an improved balance between work and family life compared to other countries. It also means that your children's needs will be taken care of, and it will be a suitable place to live in every aspect.