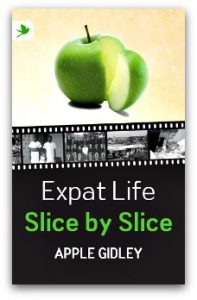 Expat Life Slice by Slice was written by long-term expatriate Apple Gidley. The book is a memoir of her adult life and describes the places she has visited and the amazing experiences she has had along the way through her trials and tribulations living overseas.
If anyone is qualified to write a book about what life as an expatriate is really like, it is Apple. Born an expat to an English father and Australian mother, she spent the first days of her life living in Kano in Nigeria. Since then she has lived in 12 different countries and experienced a jaw-dropping 26 relocations.
Her memoirs describe the experiences, lifestyles and places she has encountered throughout these years as a serial expat. In many ways the book provides a look into the history of life overseas and present-day expats will very clearly be able to see how living abroad has changed since the early days that Kano describes. However, despite the differences in lifestyle, many expatriates will be able to relate to many of the emotions that Apple describes and it is clear from reading the book that it doesn't matter how many times one relocates, the feelings associated with a big move, leaving family and dealing with family problems tend to remain the same. For example, describing her relationship with her family, Apple comments: "As we age we draw closer still. We believe in family but do not see each other for years at a time, and yet we are all aware of where each of us is in the world, still scattered and testaments to a global upbringing."
Apple's insights are provided in a practical, straightforward manner and she deals with difficult topics extremely well. Her own experiences are intricately interwoven with the philosophies and beliefs she has gained from living among people of different cultures and traditions, offering a rich tapestry of advice and ideas.
Regardless of whether you have been living abroad for a while, have just returned home after a long period of time living overseas or are about to move to a new country for the first time, this is a book you should most definitely read.
Expat Life Slice by Slice can be purchased on Amazon.