Learn About the Countries with the Largest Number of Estimated UK expats
In recent weeks The Economist newspaper called on the Foreign and Commonwealth Office to improve the links it has with UK expats and help them work more with the UKTI (Britain's trade-promotion body) and local embassies.
Surveys by both the writer of The Economist article and Expat Info Desk show that very few Brits have had any contact whilst abroad and notice a big difference in attitudes between their government and those of their friends and colleagues also living abroad. 110 of the 193 UN member states have formal programs to build links with citizens abroad, Britain is not one of them.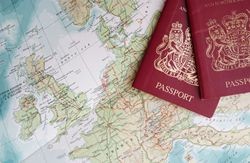 With so many UK expats it may be hard to sustain ties with all of them but some effort would be better than no effort especially with other countries actively recruiting Britons to work or move their companies.
Whilst exact numbers are hard to come by, Currencyfair has spent some time digging through various government reports and surveys to try and work out the state of the UK expats.
Top 10 countries with the largest number of estimated UK expats
Australia – 1,208,000
USA – 701,000
Canada – 675,000
Spain – 411,000
Ireland – 397,000
New Zealand – 268,000
France – 173,000
Germany – 155,000
Netherlands – 46,000
Philippines – 42,000

How long are UK expats leaving for?
The 2013 HSBC Expat Explorer Survey found out how long Brits leaving the UK in 2013 intended to stay in their host countries.
Australia
More than 4 years – 49%
1 – 2 years – 41%
Not sure – 6%
From 2 – 4 years – 4%
USA
More than 4 years – 36%
1 – 2 years – 36%
From 2 – 4 years – 25%
Not sure – 3%
Canada
More than 4 years – 58%
1 – 2 years – 24%
From 2 – 4 years – 11%
Not sure – 7%
Why are Brits leaving?
Leave the UK for a definite job in another country – 40%
Leave to accompany or join somebody else – 23%
Leave the UK looking for work – 18%
Leave for other reasons – 14%
Leave for formal study – 4%
Will the UK expats move back?
A survey in 2006 by Sriskandarajah and Drew revealed that:
36% of British expats wouldn't want to swap their new lifestyle and climate for the UK's.
24% of British expats would remain abroad for the cheaper cost of living.
19% of British expats would stay abroad for professional / educational reasons.
For the 3 most popular destinations they pulled together the following statistics.
Australia
In 2013…
51% of immigrants to Australia were female
49% of them were male
42% of them were from the UK
15% were from New Zealand
Top 3 most popular jobs for expatriates in Australia (for all expats)
Health Industry – 11%
IT Industry – 10%
Education System – 9%
USA
In 2013…
61% of immigrants to Australia were female
39% of them were male
15% of them were from the UK
11% were from Canada
Top 3 most popular jobs for expatriates in the USA (for all expats)
Education System – 13%
Health Industry – 12%
IT Industry – 11%
Canada
In 2013…
59% of immigrants to Australia were female
41% of them were male
22% of them were from the UK
Top 3 most popular jobs for expatriates in the USA (for all expats)
Banking, Insurance and Financial Services – 14%
IT Industry – 11%
Health Industry – 9%