Five Important Tips for Americans Moving Abroad
Isn't it a wonderful feeling to see that after months of planning, your dream of becoming an expat is finally coming to fruition? All the dedication and hard work have finally paid off. For a first-time American expat, this new life can be a once-in-a-lifetime adventure with a rewarding experience.
Once you have shared this exciting news with loved ones and friends, the nerves of moving to a new place will creep in. However, don't let the excitement of being a global citizen or expat hinder the process of getting prepared for the move. Apart from packing your required belongings, the planning phase can be a bit overwhelming.
Following the right tips or guidance from former expats and connections can help you do the right things for a smooth transition. No matter where you plan to move overseas, here are the top five tips that will make your relocation smooth and unnerving.
1. Save as Much Money as Possible
Your finances and savings will play prominent roles when you first set foot in foreign soil. Moving across the new host country will require a lot of money. So, the more dollars you save, the better for you. Also, prepare a rough estimate of your initial expenses like visa processing, flight tickets, accommodation, food, etc. Ideally, you should have enough savings to fend for yourself for at least six months after the relocation. Also, be prepared for unanticipated expenses during the first few months.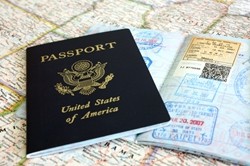 2. Apply for Visa and Organize Relevant Documentation
Americans should check the host country's government website and organize the supporting documentation required for visa application. For instance, you need to obtain a copy of your offer letter from a UK university if you are applying for a student visa. You also need documents to prove that you have enough money to pursue your education in the United Kingdom. Once you are ready with all the relevant documents, you must fix an appointment at a U.S. Department of Homeland Security application support center for biometrics submission. Your biometrics may include your fingerprints and a photograph ID.
3. Get Your Mail Re-routed
It would help if you got your mailing address re-routed to someone in your family, relatives or friend. You can get it updated online easily. You should also update your new mailing address on the website of your last employer so that your final W-2 (Wage and Tax Statement) reaches your new mail address safely.
4. Look for Accommodation in Advance
It makes sense to research your accommodations as far in advance as possible. Staying in a decent hotel for too long is not a good idea; so, try to find a house that suits your style and budget. You can start looking for your new home in your chosen place online. At least you will get a decent temporary rental apartment till the time you start settling in a new location.


5. Start Planning for Adequate Health Care
For Americans moving abroad, sufficient access to healthcare is crucial. Check out if the health care system is feasible for you. You should also examine if your current healthcare insurance is enough to cover you and your family when you move overseas. In almost all circumstances, your domestic plan won't cover you abroad. Get all your necessary medications in advance so that you don't have to look around for pharmacies when you land in your destination.
Don't forget to get in touch with the U.S. Embassy in your destination country and register there as well. They will share with you the list of doctors and healthcare facilities available in your chosen country. Finally, we recommend that you get a quote for a high quality international medical plan from Expat Financial as they work with several different insurance providers. They even have a few policies that include COVID-19.
Final Advice for Americans Becoming Expats
You must bid "adieu" to all your local friends and loved ones before you start your expatriate life abroad. Get prepared for a completely new life and make it an experience to remember. As an expat, treat every problem you face as an opportunity to learn about yourself and your environment.
Read the full article: 5-Quick-Tips-for-Americans-Moving-Abroad