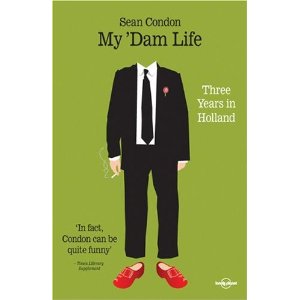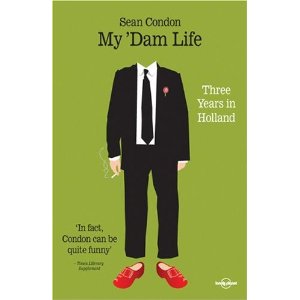 My 'Dam Life: Three years in Holland by Sean Condon is an account of one man's quest to carve a jobless existence for himself in Amsterdam having followed his wife to the city as a trailing spouse. Describing random meetings with celebrities such as Monica Lewinsky and Francis Ford Coppola, homelessness, unemployment, visa issues and run-ins with hookers, the stories Sean tells are extremely funny and enjoyable and the book can be a welcome distraction for people who are looking to learn more about expatriate life without necessarily enduring serious lessons and reflective processes. Somehow he manages to transform some of the darker and more frustrating aspects of his life abroad into humorous anecdotes. Take, for example, his disbelief that he was unable to buy stamps in a city post office:
"Hello," I said, to the slumped grey figure before me. "I'd like two stamps and two envelopes, please. Alstublieft." 

With the charm and alacrity of a corpse, the guy slid the two stamps toward me then told me that they didn't sell envelopes. 

"This is a post office, " I reminded him. 

"Nevertheless, we do not sell envelopes," he reminded me.
Then he pointed in the direction of Belgium and said, "Tabac."
I went to the tabac, queued up for seven minutes, bought three envelopes, went back to the post office, took a number, sat down and read mail-related pamphlets in Dutch for three-quarters of an hour until my number came up, went to the dead postal worker and handed over my spare envelope. "Next time somebody shows up and wants to buy an envelope—and that time will come, my friend—please give them this. It's on me."
The book is not a guide to living in Amsterdam, but is more of one man's personal account of what life in the city was like for him. The author describes the events of his relocation and subsequent efforts to assimilate with honest introspection and epiphany and, as such, the book is useful for all expatriates, not just those who are relocating to Amsterdam. The book also offers a rare glimpse into the life of the male trailing spouse and readers will benefit from the insights offered into the transition from successful career to that of househusband.
For those who are living in Amsterdam, the book will be a delightful read. Every expatriate who has sampled life in "the Venice of the North" will no doubt be able to whole-heartedly relate to some of Sean's adventures and will laugh aloud at the fascinating stories he tells.