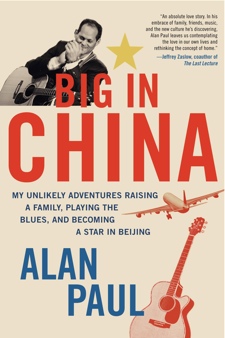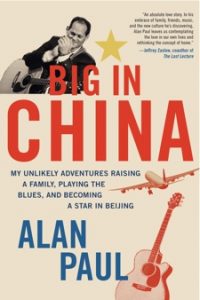 Big in China: My Unlikely Adventures Raising a Family, Playing the Blues, and Becoming a Star in Beijing, written by Alan Paul, describes his adventures as a male trailing spouse who moved to Beijing so that his wife could take a job as the Wall Street Journal's China bureau chief.
Filled with enthusiasm and hope for the future, he, his wife and their three children—aged two, four and seven—left their suburban life in New Jersey and headed off to the bustling Asian city of Beijing.
The book is extremely well written and offers an amusing insight into some of the challenges that Alan and his family faced as they attempted to assimilate into life in Beijing. Addressing issues such as making friends beyond the expatriate community, embracing life as a stay-at-home dad and dealing with people's reactions to his trailing spouse status, learning how to navigate everyday life in a country that is so different from your own and finding yourself in an unfamiliar culture.
This book would make the perfect read for any male trailing spouses who are facing the challenge of life overseas. Key to Alan's success in Beijing was the fact that he viewed his expatriation as a real opportunity to understand himself and improve his life and, as a direct result of his positive attitude he did indeed find that his life took him to places he had never before even dared to dream of.
Not only did Alan progress to fronting a cross-cultural Chinese blues band called Woodie Alan, tour China performing to thousands of fans, earn the title of the "Best Band in Beijing and write an award-winning Wall Street Journal Online column called "The Expat Life," he also successfully challenged the preconceptions that a "trailing spouse" needs to live in the shadows of their "leading" partner.
This book can serve as real inspiration for anyone who is living overseas or plans to do so in the future, trailing spouse or not. The message it provides is clear: if you are prepared to give things a try and embrace every challenge with an open mind, then the world really is your oyster.
You can find out more information about Alan's book and the exciting developments since its launch on Alan's website: alanpaul.net.