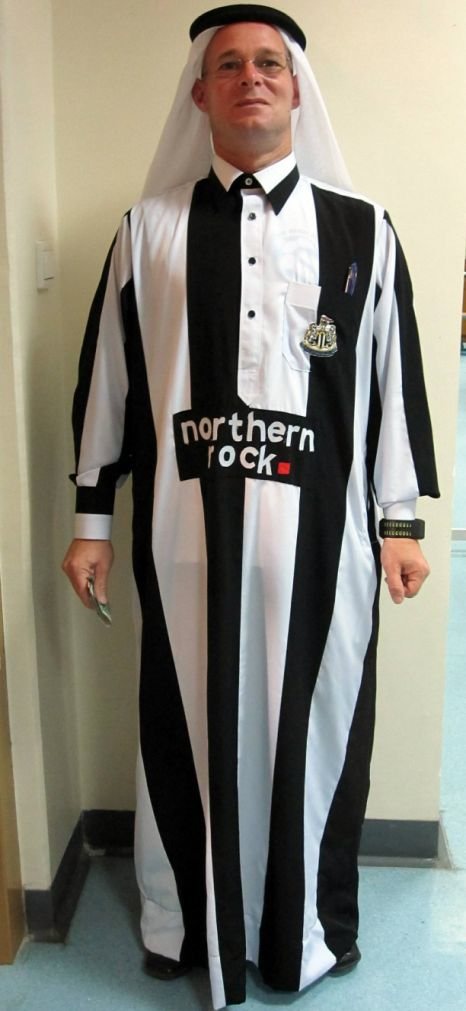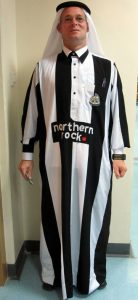 Support Your Football Team while Living Overseas
Many Newcastle United fans claim that they have the most loyal following in the world, but one British expatriate who currently lives in Qatar, has taken his love of his team one step further by commisioning the production of an Arabic robe made in the Toon Army's colors, so that he can support his favorite teams while keeping cool in the heath of the Gulf State.
40-year-old James Charncock had decided to wear the traditional 'throbe' of the region in order to help him cope with the 50 degree heat he encountered there. However, after searching around for a design that look his fancy, he finally decided to take matters into his own hands and create his own tailor-made design. The resulting robe was a full black and white ensemble in his favorite team's colors with their football club badge and support your football team with the name of the kit sponsor emblazoned on the front.
James, who now wears the robe to watch Newcastle United play football on the TV, commented that his new atire does confuse the locals but does the job it was designed to do: "I often wear the thobe when Newcastle come on the box and have had many laughs and strange looks from colleagues and students at school."
"The tailor was a bit shocked at my request but he did a great job, and it is so much cooler in the hot weather. 'I'll be back in Newcastle for the Easter break so hope to give it an airing at St James' Park," he told UK newspaper The Daily Mail.
Mr. Charnock, who emigated from the UK in 2008 with his wife and two children, paid approximately $100 USD for the robe and is now planning to commision the tailor to make a second version in his team's away colors.
Read the full article: http://www.dailymail.co.uk/news/article-2082205/Toon-army-British-ex-pat-living-Qatar-Newcastle-United-themed-robe-tailor-made.html