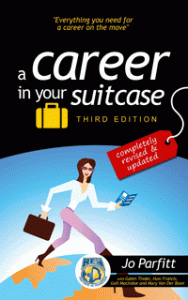 A Career in Your Suitcase, written by renowned expatriate author 
Jo Parfitt, is a comprehensive guide to managing a portable career and the challenges and opportunities associated with working overseas.
Jo is a serial expatriate and having worked overseas in numerous different positions, including teacher, journalist, author and publisher, she has amassed the experience needed to advise others on sustaining a successful portable career. She compiled the book through working with a team of different individuals, all of whom have established successful careers on-the-go and are perfectly positioned to offer valuable insights and advice.
The book is multi-faceted and contains a great deal of useful exercises that encourage those who want to develop their career options to explore their own strengths and weaknesses and understand the types of careers that are suitable for them. Once readers have established an understanding of who they are and where they want to be, the book outlines, step-by-step, the actions that need to be taken for readers to grow their professional networks, both locally and throughout the world.
One element that makes the book so successful is Jo's ability to interweave her advice with her own experience to provide deep insights into many of the elements that are necessary for establishing a successful career abroad, including developing an effective resume and cover letter, the interview process, working for others, starting your own business, freelancing and consulting. Every element of the book is accompanied by real-life stories, testimonials, exercises, checklists and useful lists of resources that can help individuals to manage their portable career.
The book will make an extremely useful read for any type of expatriate, those who are looking for work, those who are already in work and the trailing spouse who is seeking a new role in their adoptive country.