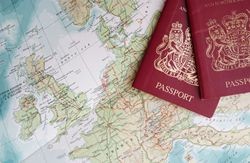 Not sure if life abroad is for you? Take a leaf out of the books of some of these famous British expatriates who took the plunge and left their homeland… for a while at least.
Sean Connery
Heralded as one of the best James Bond actors of all time, Scottish actor Sean Connery first opted for live overseas in the 1970's. Living first in Spain and then the Bahamas—where he currently resides—the reasons for Connery's overseas moves are subject to much debate. While he openly reveals that his initial move overseas was driven by political reasons and that he will only return to an independent Scotland, he also revealed further motivations in a recent interview with The Telegraph: "I couldn't live in Scotland just now with what they would do to me, frankly, the media and all that, the tabloids," he said.
"If I was living in Edinburgh I would have a real problem going around. I don't have a problem when I go out now."
Sir Michael Caine
Sir Michael Caine first left the United Kingdom for the United States in the 1970s in protest at a newly introduced 83% tax rate. Despite the fact that this law was eventually overturned he never permanently returned to his home country. Discussing his opinions of the UK tax system, he once stated: "I decided not to become a tax exile, so I stayed in Britain, but they kept putting the tax up, so I'd do any old thing every now and then to pay the tax, that was my tax exile money. I realized that's not a socialist country, it's a communist country without a dictator, so I left and I was never going to come back."
Eventually Michael did return to the United Kingdom, on a part-time basis at least, and currently splits his time between Leatherhead, Surrey and Miami Beach, Florida. There are worse places to live.
Victoria Beckham
Victoria Beckham is one of Britain's most famous exports. Her moves to both Spain and the United States were heavily publicized throughout the world. Love her or hate her, no one can deny that she has handled expat life well. She has managed the difficult process of carving out her own career and niche abroad while simultaneously raising a family and sustaining her marriage through one or two major scandals. She has coped tremendously well with the challenges that overseas life has thrown at her and is a great role model for the trailing spouse. Rumor has it that she will be returning to the UK this year so that her four children can be educated in the United Kingdom.
Liam Neeson
Liam Neeson first moved to Hollywood in the USA to further his acting career and attract more high profile roles. In 2009, he announced on ABC's Good Morning America that he been naturalized permanently as a United States citizen and had left behind the United Kingdom for good. When questioned as to his reasons for wishing to become a US citizen he revealed that the outpouring of support from the American population that he had received following his wife's death after a tragic skiing accident had been a major motivation.
Sharon Osbourne
Originally from Brixton, London, Sharon Osbourne shot to fame after her role as Ozzy Osbourne's wife was explored in the reality TV show The Osbournes, which documented the family's life in L.A. She has since carved a name for herself both in the UK and the United States and has appeared on the judging panel of a number of reality talent shows including The X Factor and America's Got Talent.
Mick Jagger
Front man to one of the most famous bands in the world, Mick Jagger is another famous expat who quit the UK for tax purposes. In 1972 he and the rest of The Rolling Stones left Britain in favor of the South of France in order to avoid hefty tax bills. In a blatant reference to their status as tax exiles the band even named their album 'Exile on Main St.'
Julia Gillard
Julia Gillard was somewhat of an expat child. She first moved to Adelaide, Australia from Barry in Wales at the age of five years old on the advice of a doctor who informed her parents that living in a warm climate would aid the bronchopneumonia that she suffered from as a child. She has since remained in Australia where her strong political career speaks for itself. It doesn't look like she'll be returning to the UK anytime soon.
Charlie Chaplin
Charlie Chaplin was born in Walworth, London but opted for a life of fame in the US, where he lived between 1914 and 1953. Although Chaplin was popular with the US movie-goers, he made an enemy of J Edgar Hoover, who accused him of being a communist. In 1952, while Chaplin was visiting the UK to premier his latest film, Hoover ordered that the actor's reentry permit to the US was revoked; the film star could not return to the United States. Commenting on his treatment Chaplin said: "Since the end of the last world war, I have been the object of lies and propaganda by powerful reactionary groups who, by their influence and by the aid of America's yellow press, have created an unhealthy atmosphere in which liberal-minded individuals can be singled out and persecuted. Under these conditions I find it virtually impossible to continue my motion-picture work, and I have therefore given up my residence in the United States."
He did not remain in the UK but went on to live in Vevey, Switzerland.
Who stands out for you as one of the world's most famous expatriates? Leave a comment and let us know.